Document Management System. Easily.
The self-hosted productivity platform that keeps you in control.
To explore the full extent of capabilities of our DMS solution, we can provide you with a hosted trial. This will allow you to get a real feeling of what it can do for your organization.
Demo DMS logins are available by schedule or by invitation only.
Want to have your own DMS solution? Contact us

You need 100% certainty
Sending around data by email or using public SaaS file sharing solutions does not provide much security for sensitive data. Encryption is complicated and cumbersome to use, reducing the real benefits due to employees working around them or making mistakes.
Keeping data on your own infrastructure or at a trusted local private or public cloud provider means you stay in control. Only then can you show your customers exactly where their sensitive documents are. Regulators can be certain that non-compliance with proper process is minimized.
SaaS is a risky solution
Most consumer-grade solutions like Dropbox or Office 365 were not designed with privacy regulations and security concerns in mind, mixing data from consumers and businesses, spread out in data centers across the globe. Enterprise IT workloads may be processed by Cloud Providers liable to the US CLOUD Act, meaning your business data can be leaked on orders of the US judicial system, often without disclosure to you.
Rather than trying to work around their limitations, our solution provides a security-first solution which puts you in complete control over the location and access policies of data with a private cloud solution as well as a managed public cloud solution offered by local and trusted providers.
What are HIPPA and HITECH
The Health Insurance Portability and Accountability Act is a US law designed to provide privacy standards to protect patients' medical records and other health information provided to health plans, doctors, hospitals and other health care providers.
HIPAA mandates industry-wide standards for protection and confidentiality of protected health information (PHI), both technical and in terms of processes.
The HITECH Act widens the scope of privacy and security protections available under HIPAA; it increases the potential legal liability for non-compliance; and it provides for more enforcement.
Learn more:
---
Our DMS Solution fits seamlessly in a HIPAA compliant infrastructure.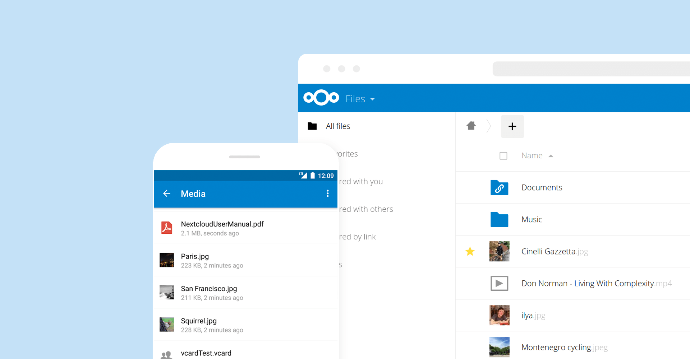 Multi-platform productivity
Data needs to be available where the patient is. Tablets, mobile devices, laptops and desktops all have access to the same files at a moments notice thanks to the first-class Nextcloud clients.
Doctors and nurses can tag and comment on files for easy collaboration, roll back files to earlier versions or find deleted files in the trash. Real time collaborative editing and secure audio/video calls and chat complement the array of features aimed at enhancing productivity.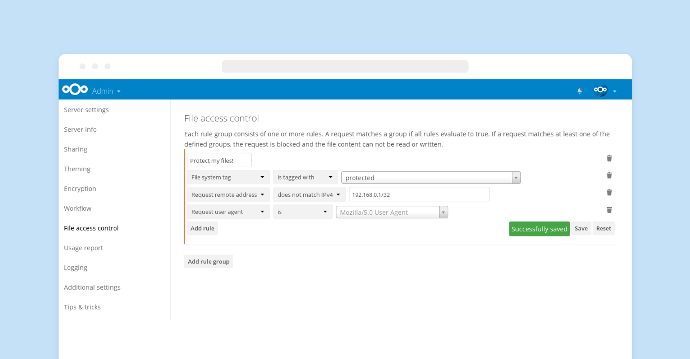 File Access Control
The File Access Control feature of Nextcloud enables IT to codify legal and policy requirements, blocking unauthorized users uploading or downloading data following defined rules. Criteria include IP address ranges, group membership, file type and size, time and more. Data retention can be controlled as well, enabling administrators to limit the lifetime of certain files.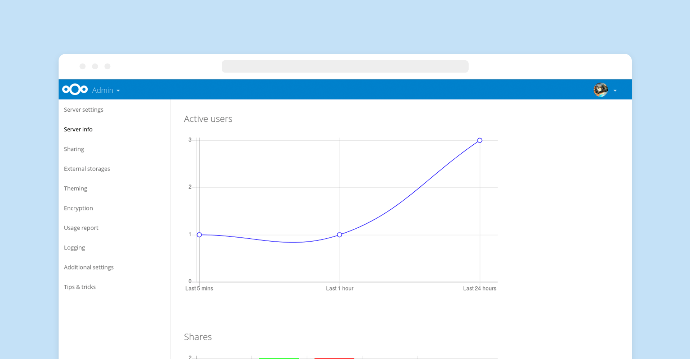 Monitoring and auditing logs
Nextcloud offers built-in powerful monitoring capabilities, enabling institutions to ensure smooth performance. Systems can be monitored using the web interface or through monitoring and systems intelligence tools like OpenNMS, Splunk, Nagios or others. A full auditing system logs all user actions, enabling fully compliant usage of file sync and share.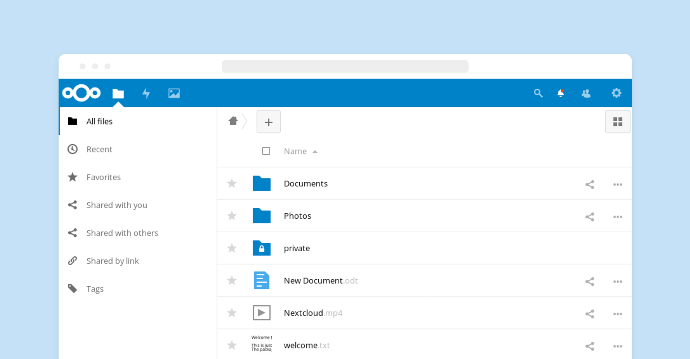 Encryption
Our DMS solution uses industry-standard SSL/TLS encryption for data in transfer. Data at rest in storage can be encrypted using a default military grade AES-256 encryption with server-based or custom key management. Optionally and on a per-folder base data can be end-to-end encrypted on the client with the server assisting in sharing and key management using a Zero-Knowledge model.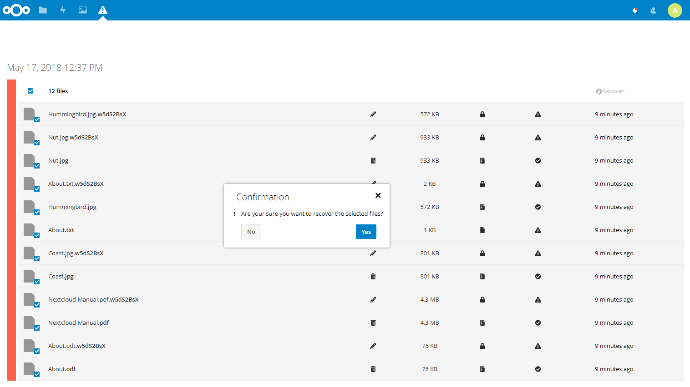 Ransomware protection
Ransomware attacks are becoming more targetted as lots of money can be extracted from businesses and government organizations. While insurance can cover direct costs, the disruption to business is immense regardless. Nextcloud goes far beyond competing solutions, offering automated, one-click ransomware recovery tools.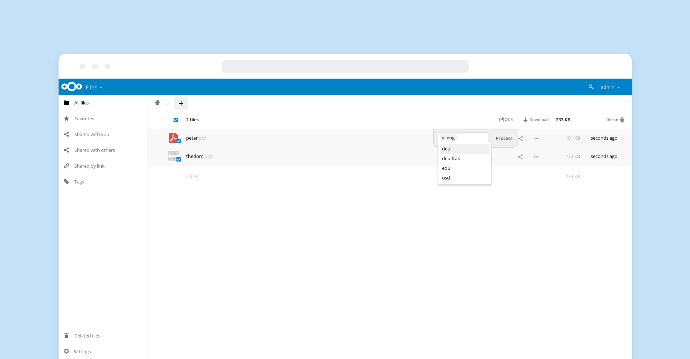 OCR and full-text search
Can easily be extended with powerful document management features like OCR and full-text search, enabling quick search in your documents.
Can be connected to any document scanner (Xerox, Canon, HP, etc.) that supports WebDAV as well as mobile scanning and OCR apps, such as ScanBot.
Extensive, open-standards based API's result in a low barrier to extension and integration in existing tools and workflows like RA Micro and ReNoStar.
Integrated DICOM viewer
Digital Imaging and Communications in Medicine (DICOM) is the international standard to handle medical images, ubiquitous worldwide in radiological imaging devices and systems.
A third party developed a DICOM viewer for Nextcloud, enabling medical professionals to view and modify DICOM files. It parses and displays patient information, enabling viewing of images with informational overlays including Computed Radiography (CR), Computed Tomography (CT), Digital Radiography (DX), Mammography (MG), and Magnetic Resonance (MR).
The DICOM viewer is a powerful example of the capabilities of Nextcloud and how it can be extended and integrated to support the workflow of professionals.
Learn more:
---
Our DMS Solution fits seamlessly in a HIPAA compliant infrastructure.


Self Hosted
Fully self-hosted, meaning all data is under your control. PuraDMS can leverage your existing storage, security and privacy policies. There is no vendor lock-in or tracking by us of any kind!
Easy Interface
PuraDMS offers an easy to use user interface which comes with powerful search functionality, trash and versioning, favorites, tags and more ways to quickly reach the files users need.
DMS Client
Desktop and mobile clients for Windows/MacOS/Linux, Android and iOS complement the web interface, integrating in the file system. Nextcloud can also be reached through WebDAV.
User Authentication
Authentication through LDAP / Active Directory, Kerberos and Shibboleth / SAML 2.0 and more and external storage supporting NFS, Object Storage and other protocols ensure easy integration.
File Security
First-class security policies, extensive security hardening features and File Access Control to ensure legal and privacy regulations are enforced at all times. PuraDMS comes with integrated logging, two-factor authentication and NIST compliant password policy control functionalities.
Control & Sharing
PuraDMS offers fine-grained control from mobile, desktop or the Web over data access and sharing capabilities. Advanced quota management with configurable accounting of external storage and configurable file retention policies.